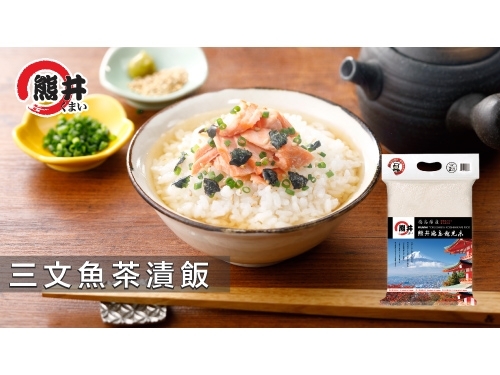 Salmon Ochazuke
Level

Step
Rinse the rice and cook in rice cooker with 200ml water.

Sprinkle both sides of the salmon with ¼ teaspoon salt, heat vegetable oil in a frying pan and sear salmon for approximately 10 minutes. Take off heat, remove the skin and break up the flesh into small flakes.

Thinly slice green onion.

Shred seaweed by hand.

Combine dashi powder and 400ml water in a pot, heat for 1 minute until boiling, and then remove from stove.

Scoop cooked rice into a bowl, place salmon flakes, green onion, shredded seaweed ,and white sesame seeds on top.

Pour dashi over it, then garnish with wasabi to taste.
Material
Ingredients

Sauce

Kumai Tokushima Koshihikari Rice 150g

Water (for cooking rice) 200ml

Vegetable Oil To taste

Salmon 1 piece

Salt ¼ teaspoon

Green Onion 2 pieces

Seaweed 1 sheet

White sesame seeds 1 teaspoon

Water (for making soup) 400ml

Dashi powder 2 teaspoons

Wasabi To taste