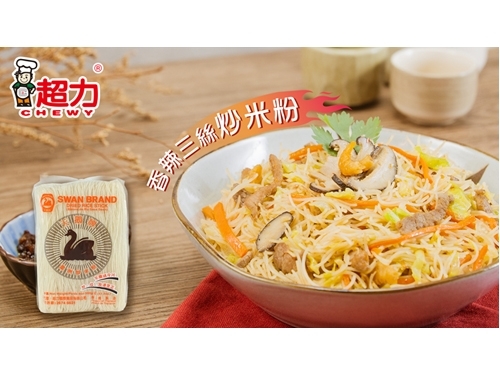 Pan-fried Rice Noodles with XO sauce
Level

Step
Soak rice stick in cold water for 10 minutes until they are tendered. Drained and set aside.

Marinade the pork with soy sauce and sugar for 10 minutes.

In medium heat, add some oil and stir fry the garlic, mushroom and dried shrimp until fragrant.

Add pork and stir fry until cooked through.

Add carrot, cabbage and toss well, pour in chicken stock and cook until tendered.

Add rice stick and toss until the stock is mostly absorbed. Stir in XO sauce and Sichuan pepper corn oil, toss well. Serve immediately.
Material
Ingredients

Sauce

Swan Brand Dried Rice Stick 1 pc

Pork tenderloin (strips) 150 g

Shitake mushroom (slices) 2 pcs

Carrots (julienned) 40 g

Cabbage (shredded) ½ pc

Dried shrimp (soaked) 2 tbsp

Garlic (minced) 2 cloves




Chicken stock 100 ml

XO sauce 2 tbsp

Sichuan pepper corn oil 1 tbsp

Soy sauce 1 tbsp

Sugar 1 tsp