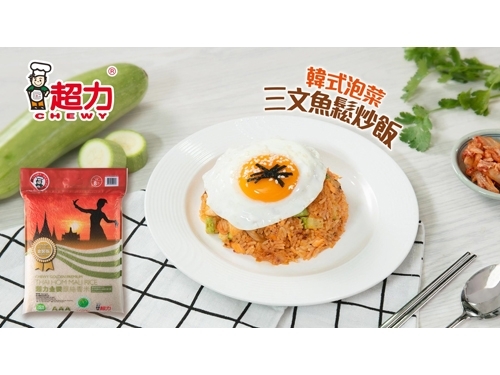 Korean Style Kimchi Salmon Fried Rice
Level

Step
Rinse the rice and place into the rice cooker. When it's cooked, set aside to let cool.

Rinse the salmon and pat dry. Season with black pepper.

Dice the courgette.

Heat the pan over medium heat, add 1 tsp oil and pan-sear the salmon until fully cooked. Transfer to plate and flake into small pieces.

Keep the salmon oil in pan, sauté the minced garlic until fragrant, then stir-fry the kimchi and courgette.

Stir-fry the rice, add Korean hot pepper paste and toss until coated.

Return salmon into the pan and toss it gently. Season with sugar.

Transfer the fried rice to plate, top with sunny-side up egg, sprinkle with shredded seaweed and sesame. Serve.
Material
Ingredients

Sauce

Chewy Golden Premium Thai Hom Mali Rice 150g

Salmon Fillet 150 g

Kimchi 100 g

Courgette (small) 1 pc

Sunny-side up egg 1pc

Shredded seaweed To taste

Sesame To taste




Minced garlic 1 tbsp

Korean hot pepper paste 1.5 tbsp

Black pepper 1 tsp

Sugar 1 tsp