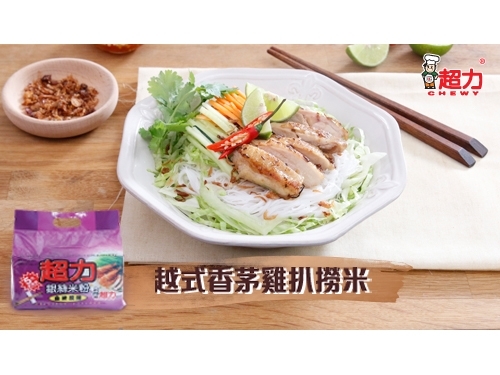 Vietnamese Lemongrass Chicken with Rice Vermicelli
Level

Step
Shred the cucumber, iceberg lettuce and carrot.

Mince the lemongrass.

To prepare the dipping sauce. Slice the shallot, garlic and red bird chili. Juice the lime.

Combine shallot, garlic, red bird chili, lime juice, fish sauce, boiled cold water, brown sugar and sweet chili sauce and set aside.

Marinate the chicken with minced lemongrass, minced garlic, ginger juice, sugar and fish sauce for 20 minutes.

In a pot, bring the water to boil and cook the Chewy Instant Rice Vermicelli Original Flavor until soft, drain and transfer to the plate.

In a pan, add some oil on a medium high heat and cook the chicken until golden brown on both sides and fully cook inside.

Cut the chicken into slice.

Place the shredded cucumber, iceberg lettuce, carrot and chicken over the Chewy Instant Rice Vermicelli Original Flavor. Sprinkle some fried shallot on top.

Serve with the dipping sauce.
Material
Ingredients

Sauce

Chewy Instant Rice Vermicelli Original Flavor 1 pack


Chicken thigh 2 pcs , about 100g

Cucumber ½ pc


Iceberg lettuce ¼ pc


Carrot ¼ pc


Fried shallot to taste




Chicken Marinade

Lemongrass 1pc


Minced garlic 1 tbsp


Ginger juice 1 tbsp


Sugar 1 tsp


Fish sauce ½ tbsp


Dipping Sauce Ingredients

Shallot 1pc


Clove garlic 1pc


Red bird chili 1pc


Limes 2pcs


Fish sauce 3 tbsp


Boiled cold water 2 tbsp


Brown sugar 2 tbsp


Sweet chili sauce 1 tbsp