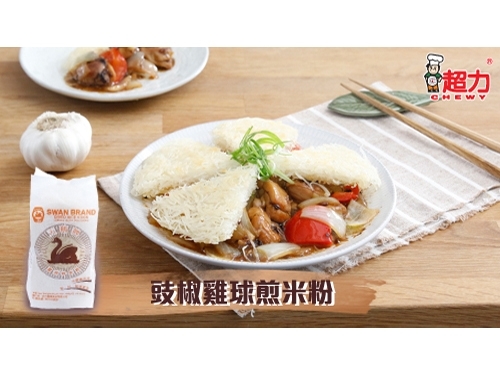 Pan-fried Rice Vermicelli with Chicken and Black Bean Sauce
Level

Step
Soak the Swan Brand Dried Rice Stick in cold water about 10 minutes, drain and set aside.

Cut the chicken into pieces add Chinese cooking wine, light soy sauce, sugar and white pepper. Marinate the chicken for 20 minutes.

Peel and cut the onion, cut the red bell pepper into pieces, mince the garlic and fermented black bean.

Add some oil, cook Swan Brand Dried Rice Stick until golden brown on both side.

Add the chicken and stir-fry until golden brown, minced garlic, minced fermented black bean, mix them well. Then add onion and red bell pepper, cook for a minute. Add the chicken broth and bring to a boil. Season with white pepper.

Then add cornstarch water in the sauce and cook until the sauce has thicken. Transfer to the plate, cut the pan-fried rice stick into wedges, place on the chicken and ready to serve.
Material
Ingredients

Sauce

Swan Brand Dried Rice Stick 400g 2pcs ( 130g)

Water 50ml

Fermented black bean 1 tsp

Onion 1 pc

Red bell pepper 1/2 pc

Garlic 2 cloves

Chicken thigh meat 200g




Chicken broth 100ml

Corn starch 1 tsp

White pepper 1/2 tsp

Sugar 1 tsp

White pepper 1/4 tsp

Shaoxing wine 1 tsp

Light soy sauce 1 tsp