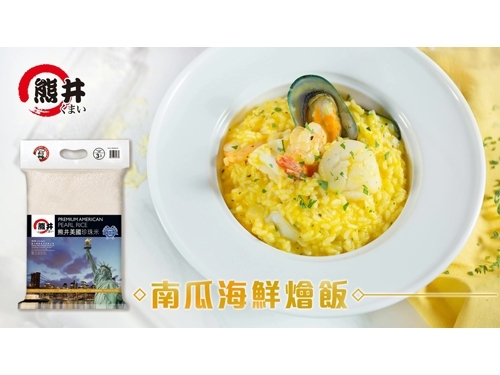 Pumpkin and Seafood Rice
Level

Step
Clean and rinse the squid. Score and cut into pieces. Marinate shrimps, squid and scallops with 20mL white wine and ground white pepper for 10 minutes. Drain and set aside.

In a pot, bring the chicken broth to simmer. Reduce to low heat to keep the warm.

In a pan, add some oil on medium heat. Add onion and sauté until fragrant. Add the Kumai Premium American Pearl Rice and sauté for 3 minutes then deglaze with white wine.

When the rice has absorbed the white wine, add mashed pumpkin and mix well.

Ladle the chicken broth just enough to cover the rice and let it simmer until the rice has absorbed the broth and keep stirring.

Repeat step 5 until the rice is cooked. When adding the last batch of chicken broth, add the seafood, Italian seasoning and parmesan cheese. Stir well until the rice has thickened.

Remove from heat. Add butter, salt, black pepper and mix well. Sprinkle with chopped parsley. Ready to serve.
Material
Ingredients

Sauce

Kumai Premium American Pearl Rice 200g

Mashed Pumpkin 150g

Mussels 5pcs

Shrimps 6 pcs

Squid 1pc

Scallops 4pcs

Onion 1/2 pc

Parmesan cheese, grated 20g

Butter 15g

Parsley, chopped







Chicken broth 600mL

White wine 200mL

Italian seasoning 1 tsp

Salt

Black pepper

Ground white pepper